Our products
Stellarium Mobile and Stellarium Plus
Stellarium, the award-winning open source planetarium, is now available on your mobile devices! Download now and experience the night sky with Stellarium Mobile, brought to you by the original creator of Stellarium.

With a minimalistic user interface, and feature-rich application, Stellarium has everything you need to explore the night sky like never before.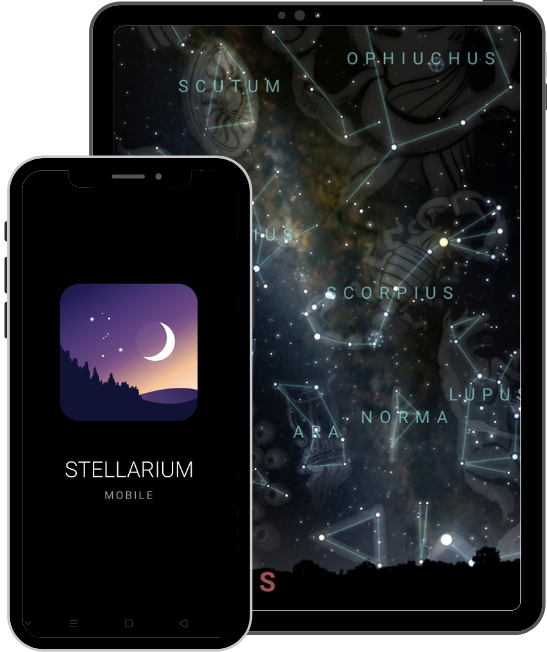 Stellarium Mobile Plus features
Award-winning astronomy app Stellarium Mobile
Your features:
All known stars: Gaia DR2 catalog of over 1.4 Billion stars
All known deep sky objects: a combined catalog of over 3 millions nebulae and galaxies
All known planets and their natural satellites, including very high multi-resolution imaging for the major ones
All known comets
Many minor solar system objects, more than ten thousand asteroids
Most visible artificial earth satellites, including the International Space Station!
A full-sky very high multi-resolution background image
For advanced users, upgrade to the Plus version and enjoy the following additional features:
Telescope control module: drive any telescope through an application compatible with the Stellarium Telescope Server protocol (see Telescope Control in Stellarium Mobile PLUS for details).
Display ocular to figure how an object would look like on your instruments
Advanced observation tools: prepare your observing sessions by predicting a celestial object observability and transit times
A calendar of upcoming astronomical events and satellite passes
3D view of planets, satellites, and many more objects.
Please note that the app works perfectly without internet connection, but with a reduced set of data (2.5 M stars, 2.9 M DSOs, 10k asteroids).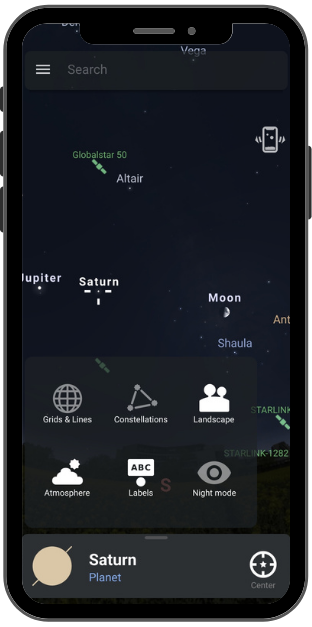 More features
Want more? Here's more features for you!
show the sky at any time and place
sensor control to identify a star in just a few seconds, just by pointing the phone at the sky!
asterisms and illustrations of the constellations for different sky cultures from around the world
realistic landscape and atmosphere with sunrise & sunset
accurate simulation of atmosphere refraction
night mode for dark adaptation
Feature comparison
Stellarium Mobile vs Stellarium Mobile Plus feature comparison:
| Feature | Stellarium Mobile | Stellarium Plus |
| --- | --- | --- |
| STARS | ✓ | ✓ |
| ASTEROIDS | ✓ | ✓ |
| CONSTELLATIONS | ✓ | ✓ |
| SOLAR SYSTEM OBJECTS | ✓ | ✓ |
| SKY IMAGING (DSS) | ✓ | ✓ |
| ARTIFICIAL SATELLITES | ✓ | ✓ |
| SKY CULTURES | ✓ | ✓ |
| NIGHT MODE | ✓ | ✓ |
| 3D VIEW | | ✓ |
| OBSERVE CALENDAR | | ✓ |
| INSTRUMENT OCULAR | | ✓ |
| TELESCOPE CONTROL | | ✓ |
Some Stellarium Mobile Plus screeshots
Stellarium Mobile combines a realistic and accurate night sky simulation with a gigantic amount of online imaging and sky objects catalogs.